In the 13th century, diamonds were first cut to improve their look. Prior to that, the crystal's edges were smoothed down and the flat surfaces polished. The first cut was known as the "table cut" The octahedral(eight sided crystal structure of diamond) crystal was given a flat surface on top(known as a table) and a smaller flat surface underneath which came to a point(known as a culet).
In the late 1400s, the cutting wheel was used and diamonds started to get their quality attributes as we may be familiar with today, but still not quite near the geometric precision in todays round brilliant cuts.
In the early 1600s, the rose cut was introduced as an economical way to cut flat diamond rough. At this time, diamonds were becoming more and more precious to the aristocrats of the modern world, hence, yielding top dollar. In turn, dearness of the value was much greater, so naturally, cutters wanted to waste as little rough as possible, if any at all. The rose cut had a faceted dome and flat base under which at this time, gold or silver foil could be placed to reflect light, giving the sparkle and intense fire that is so coveted today.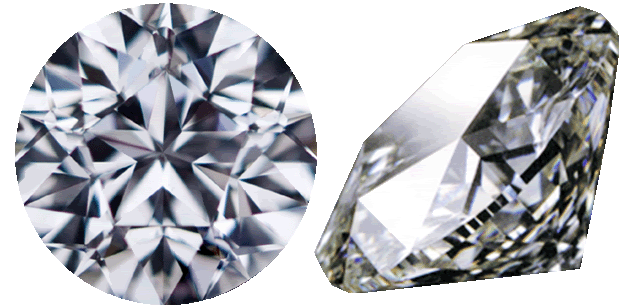 Continue reading "Gemologist Corner:History of the Round Brilliant Cut" »